In response to a recent Edelman study and Hubspot post about the 2010 barometers of trust — and specifically, the reduced level of trust in our friends' advice — I was inspired to write a comment which I post below. "According According to the latest [Edelman] survey, the number of people who view their friends and peers as credible sources of information about a company has dropped from 45% in 2008 to 25% in 2010, decreasing almost by half!"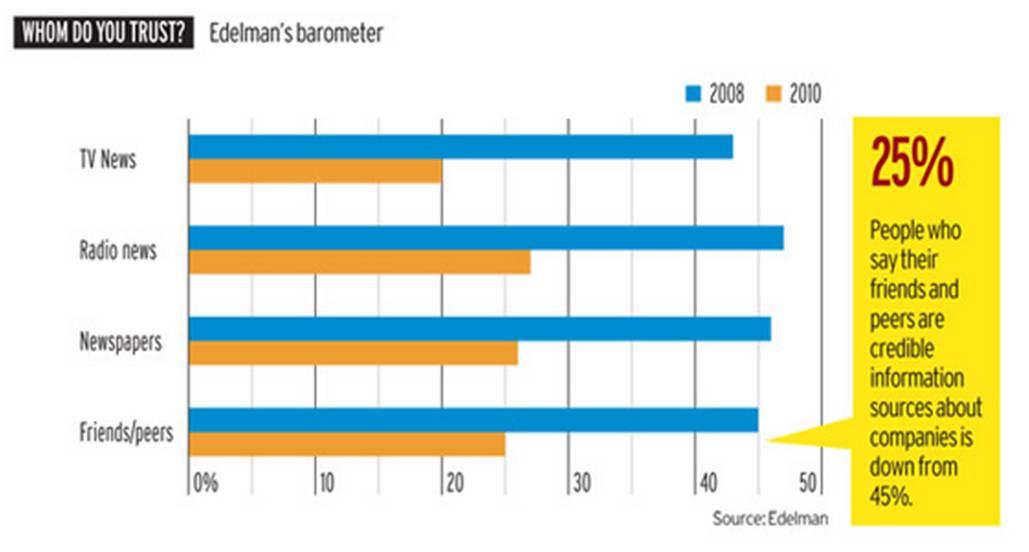 The open-field system of social media that has been and remains (at least for now) 'free' was also free of restraints, allowing a flooding of the airwaves and causing a number of free market abuses. While you are certainly right Charles H. Green (@Trusted Advisors) to say that trust is situational, it is also institutional and personal. The one factor that is incompressible, however, is time and, the lack of time versus the oversupply of advice and links, etc., has created a natural culling effect.
The winnowing out of the blogs you read, the tweets you click on and the brands you will buy into is the result of a natural, Darwinian process of selection. In a constantly evolving landscape, people and brands will need to learn the value of their online credibility. Just like the lack of trust of marketers was caused by irrelevance and unwanted interruption, now poor or unwanted advice, unashamed self-promotion and virtual noise have dropped the value of having an overly wide circle of "friends."
Your lasting strength and personal creditworthiness come, on the one hand, from the value of being selective in the friends you accept or "follow" and the sites you reference, as well as, on the other hand, the quality of your own posts, comments & links you share. I am sure that this boomerang effect will be healthy for the social media sites, because the bubble was appearing a bit oversized. As suggested by Emmanuel de Saint-Bon, your circle of friends becomes your network; but, if you spurn the needs of your network, you risk getting turned off, just as the TV networks have experienced.
Your thoughts?