Have you noticed of late the precipitous falloff of activity on Foursquare?  If you are a user, I'm going to guess that you — like me — have taken the finger off the Foursquare pedal ever since they altered the scoring system. The race for first position has totally lost its appeal — even for the alpha male.  At best, the competitive component may be limited to sustaining a Klout or Empire Avenue score?
Foursquare's unofficial stock value has presumably shrunk as well, in accordance with the lack of activity. Unlike Instagram, whose value was intrinsically felt by its users, Foursquare users (largely male) were chasing phantom kudos and immaterial value. That has been my experience, until this past week…
What's a check-in worth?
On my trip to New York, I stayed at the Crowne Plaza Hotel at Times Square. With Pavlovian instinct, I immediately connected to the hotel wifi and, while waiting in a queue, lazily checked in on Foursquare. I even checked in at the place in which I was (as opposed to some random nearby location picked up by my iphone). Crowne Plaza had a SPECIAL in orange beside its name. In order to unlock the offer, you had to check in three times. I looked at the offer: 1000 points in its Priority Club loyalty program.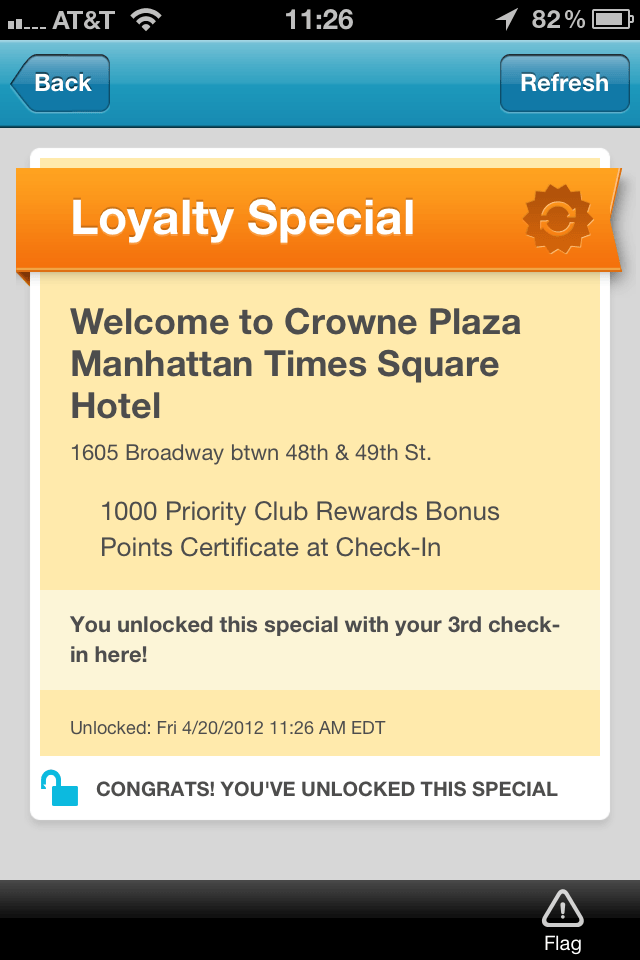 I was staying at the Crowne Plaza for two days. Three check-ins meant that I would have to double up on one day (i.e. kind of cheat). I did so. And was awarded the 1000 point bonus.  At check out, I proudly showed my screen capture (which I did intuitively, thinking that I'd need to show the proof… Instructions not included).  The procedure required me to log into their site and register the coupon, including a number that had 15 (small print) digits. The whole thing took a little less than 2 minutes, so it was acceptable.
What's the point? Well, for the brand, Crowne Plaza, they are surely testing the waters. Kudos. Secondly, passersby outside of the hotel who are "checking in" (without physically entering) are getting some subliminal messaging. Thirdly, I feel a little rewarded.  The critical question from a digital marketing standpoint is making the maximum mileage from this activity.  How to get 'juice' from those 1000 points on offer?
Take-aways for brand and digital marketing
A key take-away for digital marketing is to make sure that the 'award' is calibrated according to the way the game is played. In this case, the required three check-ins duly knocks out the random, fake players (which basically encompasses most users).
Don't forget the instructions.  It's new territory, so users are not used to the system.
Add easy social features after unlocking the prize, like a retweet, Facebook post…
Make the redemption as painless as possible.  Add more social functionality once the rewards have been redeemed.
In terms of mobile marketing, it is important to think of ways of participating with the user in "down moments" such as when he/she is waiting in line.  Think of when they would do that, where they will be and what they will be wanting…
Anyone else have any good or surprising experiences with a geolocalization service such as Facebook places, TellMeWhere or Foursquare?