I was recently asked by the Women's Forum to write about the relevance of using social media for their Forum event. Certainly, events and social media are a terrific match. And, for an event that is, by definition, women-centric, social media has even more sense.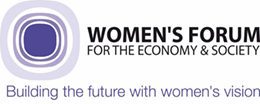 For brands, I believe that events are an extremely important part of marketing mix. For as much as budgets are being reduced and marketing dollars are moving (if not flooding) onto the digital platforms, the notion of the In Real Life ("IRL") event is a way to connect in deeper ways. Events represent a social and unique experience. They combine several elements: handshaking and live networking, a one-time out-of-office experience, conversation and downtime. It is in this context that social media is a perfect way to perpetuate the IRL event – call it a "blended" networking or, for brands, a blended marketing mix.
Women and social media
The use of social media (Linkedin, Facebook, Twitter…) for the Women's Forum, thus, makes a world of sense.  Women are disproportionately over-represented on the majority of social media networks.  Going back to a 2009 Royal Pingdom report, sixteen of the top 19 social media sites have a majority of women.  While the world continues to move at a rate of knots and some of those top 19 sites have indeed changed or even disappeared (Imeem), I can only believe that that trend remains the case.  More recent Pew Research survey (Feb 2012) identified that 71% of women are on social media networks versus 61% for men.  Below is a graph on the % of female/male on the major social networking sites (MySpace, Facebook, Twitter, Linkedin & Other SNS) – Source PEW Internet (PDF).
Not only are women more present on the social media sites, as studies have proven, they tend to participate and share more. An Invesp survey from ComScore in 2011, found that women spend 6.5 hours per month on social networking sites versus 5.0 hours for men. (You can download the full report here). The Pew Research cited above showed that 54% women access social media sites daily versus 42% for men. Moreover, when it comes to mobilizing behind a cause, women are decidedly and more decisively active. If you evaluate women versus men based on activity and influence, the gap thus widens. So, the question would be which social media to use with your women's event?
Twitter – Live Stream and Discovery
Twitter, where women represent 55% of its users worldwide (closer to 60% in North America), is one of the standout social media tools to accompany a forum. There are two main reasons, in my opinion:
First, it's a great tool during the conference, either as a live stream on stage or for sharing content to those who could not attend.
Secondly, by virtue of the fact that you can have followers without needing to be followed (and vice versa), it is a great way to meet and discover new people. Exercise the beautiful art of serendipity.
My personal favorite reason for enjoying Twitter is the short form text, which means that all communications are, by definition, executive in length. Meanwhile, it's worth noting that 4 of the top 5 celebrities on Twitter are women (@LadyGaga, @Katyperry , @Shakira and @Rihanna). BTW, another micro-blog service I like very much (and use frequently) for events and seminars is Balloon.
Quick Tips: Follow subjects in Twitter that interest you by searching the topic preceded by a hashtag, i.e. #womeninpower. Also, be sure to create lists according to your center of interest.
LinkedIn – The professional link up
LinkedIn is a second obvious go-to social media network for any event (even if the population skews male). Aside from rendering the business card exchange more powerful and enduring, LinkedIn is a great tool for connecting on a strictly professional level. It allows you to see who is linked to whom. One of the great assets of Linkedin, which has a worthy premium version for those wanting to go further, lies in the powerful ("Advanced") search engine. Without doubt, though, as with all social media, the real value comes from participating. You can join or even create lists according to your interests. Make sure to join in the conversation.
Quick tip: Make sure that the first line of your bio tells immediately your story. The descriptor will always be attached with your name in Linkedin, but also in Google and Bing results (see below).

Facebook – Personal and professional hybrid
With its 900 million users, it is impossible not to include Facebook especially for a Women's Forum, considering the higher proportion of women on that network (58% according to Pew). To believe Facebook is uniquely personal is to forget that Facebook is a business. Beyond the incredible reach, what Facebook brings to the party is an array of great functionality and easy shareability. It also allows to share other media such as images and video. Outside of following (liking) brands and musicians, there are robust pages ("Groups") that contain high value content. In addition, you can easily create closed or open groups according to your interest to prolong the conversation at an event.
Quick tip: If you have a lot of people (i.e. too many) asking to be 'friend' on your personal profile, you might consider creating your very own page (formerly known as a "fan page").
Clearly, other social network sites can provide other benefits and usages, depending on the asset base, for example, photos on Pinterest, Music on MySpace, Ping or Spotify, web clippings on Delicious or StumbleUpon, videos on YouTube, etc… And you also have in lieu event specific networking services (e.g. YasmoLive).
Please share your thoughts or other sites that you have seen used in conjunction with events, forums and conventions.