The blurring of the lines between off and online continues (notwithstanding the blurring of the lines between Marvin Gaye and Pharrell Williams). We have seen many examples where URL is meeting IRL. For example, we have seen how NetaPorter and Gilt have created their own magazine and pop up stores, how Bonobos plans to open up a flagship store "guideshop" in NYC, or the Amazon pop up Kindle Zone, etc. Now, Google has just opened up its first ever Google Store, in London within a Currys PC World store (part of DSG Retail, which owns Dixons and Carphone Warehouse). Located at the very north end of Tottenham Court Road (near Euston Station), this particular Currys store is anything but auspicious (see below).
Location, Location, Location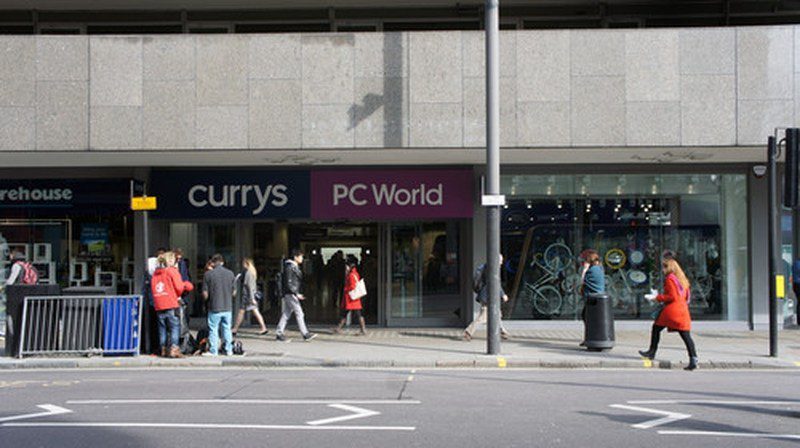 The choice of Currys PC World is no doubt linked to a strategic relationship between the two companies. There are apparently plans to expand the 'store within the store' to several other Currys locations (London area). Situated on the right hand side as you walk in, the Google Store — that probably measures around 80m2 — is sprinkled with grey-shirted Google staff. Since the store was officially launched only this week, there were also some HQ Googlers on hand. I spoke with one such lady to get a better understanding of the operation.
The main attractions
The two 'big' features were the Google Doodle allowing you to spray paint your own designs on a digital wall via a digital spray paint can.
Google Doodle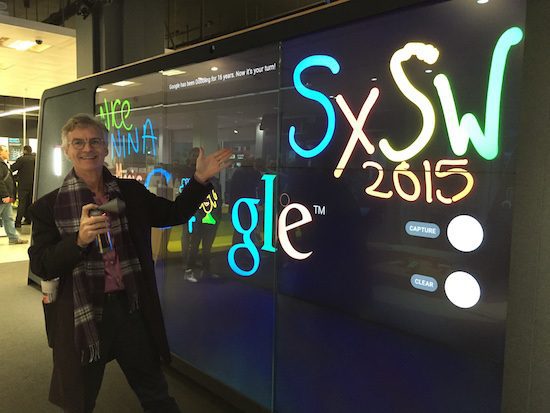 This was quite a fun process and the digital spray paint can was responsive and accurate. The bug I noticed was that the "CAPTURE" button (on the far right) actually wipes out what has just been done, as opposed to capturing it. Whoops. It turns out that the capture button was designed to record the spraying in order to create a GIF. You need to hit capture before you start. Plus, there was no way to send yourself (and share) your creation. Not especially user friendly.
Google Earth & Giant Pacman…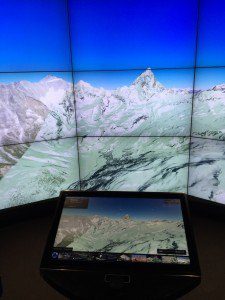 The second major feature was a large format Google Earth with a 3m wide screen interface that projects what is on a smaller console. Several attractive minute-long films can be chosen, including a splendid trip around the Matterhorn (right). As an alternative, the big screens also converted into a Google-centric PacMan game.
A giant Pacman game? Google taking me back to my childhood at its new London shop pic.twitter.com/xdEpgeP87R

— Sara Sjölin (@sarasjolin) March 11, 2015
Animations
Otherwise, there is also a photo booth that I tried out — with little success or satisfaction. The camera takes 4 photos of you. After the first countdown, the camera provides no further countdowns, so each subsequent flash was a surprise. Moreover, the camera does not allow you see how your photos turned out. I typed in my email, but have still not received anything. Other facets of the Google store included a recharging station (NB that accepted to recharge iPhones), a suite of product demonstrations and a Chromecast demo booth.
The window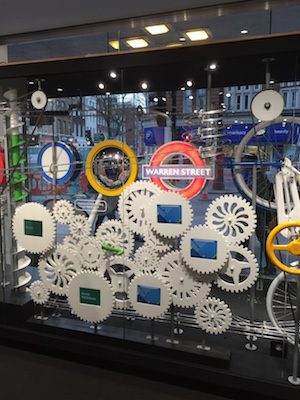 The window is a rather joyful and colorful if confused space. In little screens, you can directly see the trending searches in the UK. There were some knobs that you can turn to make the cogs go around. Much of a muchness, unless you were 6 years old, I say.
Shortcomings…
If the Currys store provided a robust wifi, the fact that Google is embedded in the Currys store brings up all sorts of issues. Google certainly does not "own" the experience. The first problem with this concerns the customer. Just like other brands dealing with a wholesaler, who owns the customer data? How to create a seamless experience between the Currys and Google areas? I was quite surprised that Google was capturing NONE of the behaviors (as in who is clicking where, touching what, etc.). Moreover, there was no effort whatsoever, other than the failed photo booth, to capture my details. When I asked the Google representative how they were going to gauge (i.e. measure) success, it seems that the only viable answer was on sales. I note that she also talked unconvincingly about "observing" people's engagement. My final point regards the venue. This particular location left something to be desired. Perhaps, the idea was that if it could "work" in such a mediocre space, it could work anywhere?
Success or failure
If my personal experience at the Google Store was underwhelmed, the only true way to measure success is to know what the real objectives were. Perhaps, the underlying purpose was to solidify the relationship with Currys, piss off a competitor or just have some press to counter the Apple Watch? In any event, to evaluate properly such an undertaking requires knowing the resources spent against measurable objectives. Bringing Google into the real world seems very much like a no-brainer. Only problem is that it takes real brains and warm bodies to create superior customer experience in store.
Your thoughts and reactions?