British Airways
, which as many of you might have followed is NOT on my favorite airline list (see here for how they handled my downgrade), is at it again. Two people in my network wrote me to tell me how they received this 'error' message. Anyone else out there receive the same error message?
As it happens, one of the two people carries my last name (my father)! In any event, it is a priceless error. Not only does it show the love lost of such errors, it exposes the challenge of carrying a proper customized Customer Relationship Management (CRM).
"We recently wrote to you with information about an Upgrade to First offer…"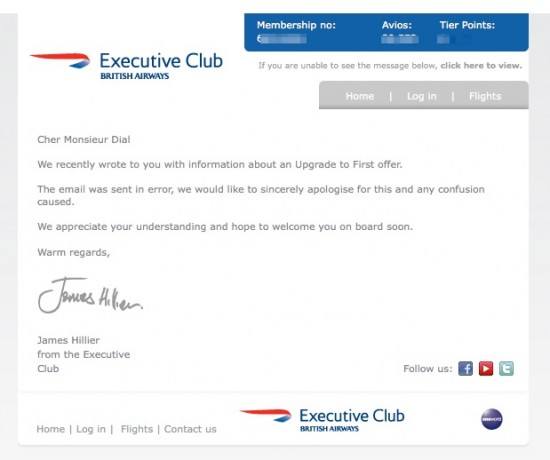 Confusion caused? You mean irritation caused.
My mind whirs because, not only did I not receive this offer, it is the offer that I should have received. I was downgraded on a long haul flight. You would have thought that, if they can offer an upgrade to others, I might have been on their invitation list?
Thanks BA for continuing to show me your level of understanding of customer relationship management.