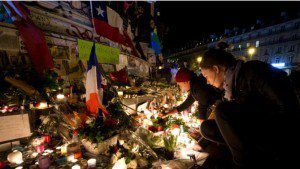 I think it is finally dawning on all of us that we are living in a radical new era. It seems that little by little, methodically interspersed with several months and country by country, we find a new date to mark on the calendar as a day of memorial, of grief and of spine-chilling angst. This Wikipedia entry — documenting all types of terrorist actions in 2015 alone — shows how frequent the acts of violence have become. In 2015, we may be living in times when there has never been more progress in medicine, technology and science. There may be great ambitions to send manned missions to Mars and the other side of the moon.There may not be a world war as history books tend to write about them. However, I am sure I am not alone in feeling that there is also good reason to review what we all doing, ponder why we are doing it and, pressingly, how we are spending our time and resources at work.
In contemplating November 13's tragic events in Paris, I came away with three thoughts.
It is evermore critical to do things that are meaningful. Did anyone else notice how hard it was to get any work done in the aftermath? Granted it was the weekend, but everything non essential seemed to be stripped away. Unless our activity has a deeper purpose, one can literally feel the reservoir of energy running out. I am sure that many people around the world who have trudged into work this Monday morning are scrubbing their brows.
As much as we might now know that change is every day — evermore so recently than ever in the past — that doesn't make the change any easier. If we all have to gear up for systematic perturbations, that heightens the need for a strong, shared and meaningful NORTH heading. This is true for us as individuals. It is true for us as entrepreneurs, business leaders and employees. And, of course, most emphatically for our society. With all these changing winds, we need a strong compass to help guide us in our professional and personal lives.
Lastly, on a rather more banal level, I could not help but feel upset at the mundane tweets and messages that floated out on Friday evening and over the weekend thanks to a cue of pre-programmed communications using one or other marketing automation service (Buffer, Hootsuite, etc.). I thought I'd made sure all of mine were closed, but I still missed one tweet. Marketing automation is possibly a necessary evil for business, but when you pre-program all your communications, you lose the context and can end up with some awful mistakes – that come off as total callousness.
Your thoughts and reactions are welcome.