Thanks to the recommendation of a friend's daughter, I got plugged into an original multi-reality immersive experience in London, called SOMNAI, created by a London-based company, DotDotDot. It's an ambitious new form of entertainment. Much of the press that I read was positive, although it got panned by the Telegraph. The Guardian called it "the trippy Virtual Reality [VR] show that takes you to dreamland," a strapline with which I happily concur. In a world increasingly infused with Artificial Intelligence, I note that despite the AI ending of the name, there was no AI in this adventure. Overall, I have to say I enjoyed the intention and the execution of the experience.
The Somnai premise
On their site, Somnai promises the following: "We will awaken all your human senses. We are the place where hyperreality and virtual reality meet – a live, multi-sensory experience with immersive technologies." On Twitter, Somnai promises: "In one hour, you'll be the human you've always wanted to be." But it also cautions: "Sweet dreams. *may cause acute death." It's not an experience for the squeamish. If the general meta idea of the experience is to explore more lucid dreaming and being more in touch with yourself, it's odd in some ways, for all the talk of sleep, because you are never even close to falling asleep given the strength of each episode.
What is the Somnai experience?
Ensconced in a 20,000-square foot warehouse in the trendy Clerkenwell area in London, the 60-minute experience involves interactions with a very live muse, music and regular voice commentary, olfactory senses, wind, as well as virtual reality and augmented reality to create a rather disconcerting combination of virtual and real experiences and emotions. Equipped with a Fitbit (to check my heart rate), a bathrobe, comfortable socks and a patient bracelet (see below), we are escorted through a labyrinth of passages by a whispy and highly engaging young woman who spoke to us "in the flesh," asking us our names, whether we recall our dreams and then a most intriguing question: "what's your naughty pleasure?"

What follows is a series of 'episodes' that are not all the same for everyone, owing to a significant ethical question posed mid-route. After a few chats with our muse, we are invited to lie on our backs and experience a powerful trippy video on the low-hanging ceiling with a great quality surround soundtrack. Then we have our first Virtual Reality (VR) experience flying with geese, replete with wind effects in the face. After a pause in a vestibule inscribed with rather cryptic phrases, we are led around by our mercurial muse to a second VR experience that is very visceral. This "trip," where we don a VR headset and backpack, includes physical and virtual objects, weird characters and phantoms. I have to say it was the most magical of all the experiences. We promenade around through a series of venues, including an enchanted forest with fantasy creatures, fast-growing vegetation and floating orbs. To pass from one virtual venue to another, you walk, guided through the VR headset, and along the way, there are physical elements to add to the reality. The walk across a canyon on a rickety wooden bridge was disconcerting, but none was more so than having to step out through an arch into a total abyss, where as you step through, the floor magically firms up. But the first step makes you feel like you have to actually dare to walk into nothingness.
The moral dilemma
Then comes a pregnant question. The moral dilemma is staged, purposefully: Door A or Door B? Do you wish to go find the missing person or go it alone? As a result of choosing Door A (i.e. alone), I ended up kneeling down (in repentance?) and listened to talking red lips. Then we went into a room, feeling part excoriated, part jubilant, to discover writings all over the wall and rather racy newspaper clippings pinned up or scattered on the ground. We felt empowered to add (with chalk) our two words to the walls as part of our ephemeral legacy.
When sleep turns to final rest
The final leg of our journey is the Death experience where, in a clinical environment, you are laid down under a blanket and put on the requisite VR mask. Taken on your "last" journey, you end up sinking six feet under, while seeing and feeling the dirt land on you from above.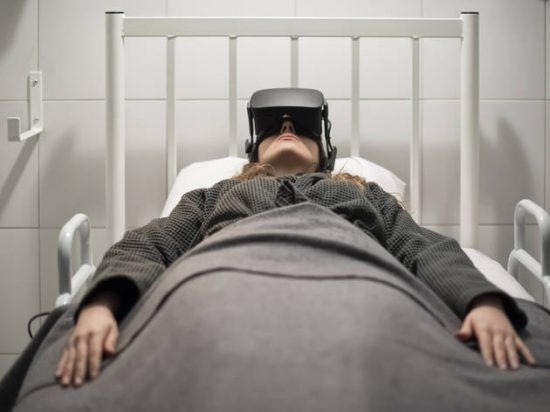 After the journey is over, you are invited into a bar that changes décor. Our VIP ticket afforded us an exotic (and very tasty) cocktail. We were invited to download the app to check out our heart beat during the experience (I was mildly shocked to see mine hit a peak of 115bpm at the end of the journey, which made me ponder my real thoughts about death). The drinks come on 'magical' coasters that, through augmented reality (AR), morph into all sorts of wild creations (see below).

Ambitious & pricey, and worth it
Somnai is an ambitious project; and there is nothing wrong with ambition. Clearly, the DotDotDot gang are cutting edge. It's not all perfect and perhaps the ambition is a tad overstated; but considering the creative and technical challenges the DotDotDot team undertook, overall it was a worthy event. Sure at £35-50 it is less accessible, but then again, assuming enough people are looking for unique experiences, they will tend to pay up for them, just like they might pay far more for a 90-minute football match.
Conclusion
In conclusion, if Somnai is, at heart, an entertaining experience, it is also designed to provoke stimulating conversation because of the nature of the shared journey, the questions asked and the novelty of the tech-infused storytelling. I felt that our muse was particularly effective and entertaining… I had the impression that we must have had "one of the best" muses, because she seemed so caring and charismatic.
Hurry up if you want to see it…
You can see more short videos at DotDot's instagram account. Tickets are available through end of May in London, with prices ranging from £35-£50 (includes the first 'special' cocktail). You can order them here. NB Don't come late. It runs on clockwork timing!