According to Twopcharts (which is admittedly a bit wonky; and is now defunct), Twitter now apparently boasts over 2.1 billion accounts created, with some 300 new accounts coming every second.   If that 2.1B number is anywhere near accurate, it certainly includes an enormous number of spammers and fakes (that Twitter attempts to close down as soon as they are created). More pertinently, meanwhile, there are now over 550 million users*, of which over 200 million are deemed "active" (meaning they use Twitter at least once a month)**.  Among the 550 million users there are presumably also many who are considered inactive, but are intently — but passively — using Twitter as a listening device.   In any event, whichever number you use, for anyone embarking on the Twitter journey, there are a whole lot of different people and accounts to follow on Twitter.
Reading a Twitter profile
Given the abundance of choices and rapidity of decay, it can be complicated figuring out who to follow on Twitter.  In this post, I wanted to help provide a topline analysis of an account and then to classify the types of Twitter users and profiles out there.  However (a) nothing replaces your own eye for the content being provided by the Twitterer and (b) it all depends on your objective for joining Twitter.  Your level of interest in an individual will depend soundly on your own interests and objectives.  N.B. Twitter provides suggestions in the column that are worth looking at (and you can sign up for an email of suggestions, too).
Topline analysis of a Twitter account
When looking at who to follow on Twitter, here are the following five things to examine: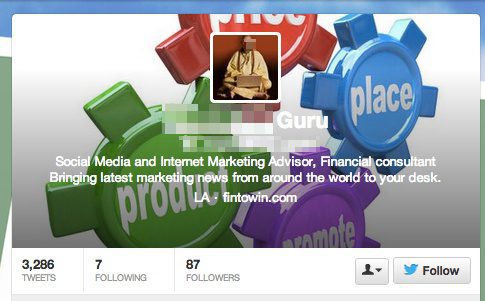 Who to follow and why?
The way I wanted to evaluate the Twitter profiles was to focus on the individual accounts. There are, of course, a large number of corporate or branded accounts. These can take the form of corporate communications, customer service, commercial offers, HR, etc. They may or may not be manned by specific individuals; however, I have chosen not to include these types of corporate accounts. I consider that one's desire to follow a brand or institution is a personal choice. In the below analysis, I am also excluding the troll, spam or porn profiles (such as the account you see to the right, replete with poor English).
Seven archetypes of Twitter accounts
For each of the 7 individual Twitter archetypes, I have provided a description, an image, a rating out of 5 stars and a key insight.
The Social Star
The Butterfly
The Distant Star
The Private Eye
The Cycler
The Listener
The Egghead, aka neophyte
In the end of the day, there are many types of users. I'd be happy to hear how else you might categorize the Twitteratti/Tweetos. The main intention in this post was to give a cartography of the main buckets of users to follow or to avoid. The question for you remains: what type of Twitter presence might you want to craft for yourself? And, for those of you thinking about how to grow your Twitter following, I wrote this post here: 5 ways to grow your Twitter following. Your comments and thoughts are welcome.
—————–
*From Statistic Brain
**You can read this Business Insider article by Jim Edwards for a recent recap and analysis of the Twitter numbers.