Back on November 25th, 2010, I published my first episode on the Minter Dialogue podcast. It was with my friend, Mitch Joel, who's been a pioneer in podcasting (Six Pixels of Separation) and continues to be one of the leading inspirations for my show. It was with great satisfaction, then, that I was able to record another podcast with Mitch in time for the 10th anniversary of my podcast. You can check it out here as we discuss Art, Shame & Perspective.
Big growth, but will it last?
Much has changed in podcasting in the intervening decade, not least of which has been a veritable boom this year, as witnessed in the two Podcast Festivals I launched with my partners Sam Sethi and Andrew Grill. Through the pandemic lockdown, over a half million new podcasts were spawned. We now have just under 1.7 million 'valid' (N.B. not active) podcasts available on Apple Podcasts according to My Podcast Reviews, while Spotify is touting over 1.9 million titles. Importantly, 59% of those 1.7 million on Apple are inactive = no episode within last 90 days. On the production side, big name podcasters, including Joe Rogan and Kim Kardashian, have signed up for mega million contracts. Interesting, Rogan grabbed the top spot on Spotify despite only being available since September, which is a testament to the strength of his community.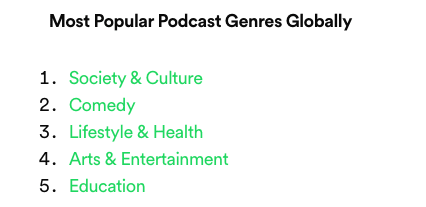 In 2020, through the pandemic period, it's interesting to note that the top five categories on Spotify are Society & Culture (a rather broad category that includes ASMR, Sam Harris and true crime stories) , Comedy, Lifestyle & Health, Arts & Entertainment and finally Education. Tends to make sense considering the period.
Movement in the podcasting industry
The podcast industry is a veritable moving feast. New podcasting companies are cropping up and innovating; and money is pouring in. But in a splintered industry with so many small players, there's also been consolidation and disappearances. I expect a good deal more activity (in and out) of that over the next few years. I can imagine that the world of podcasting will eventually morph toward more specialised channels, with more and more podcasters choosing exclusivity for better control and a stronger engagement.
Fortunately, we're finally beginning to see a robust number of add-on services both for listeners (e.g. Entale, TapTapes) and podcasters (e.g. Descript). The future of podcasting remains exciting and filled with possibilities, albeit we're bound to see a lot more movement as the industry gets to grip with its best business models. A big unanswered question is whether podcasters will manage to monetize in a healthy manner, i.e. through subscription versus advertising?
For one, I believe that in the next ten years (even the next five years), the landscape of apps will be a far cry from what it is today. If I take my own podcast experience, it just doesn't make sense for my podcast to be distributed through so many different channels. Where's the traction and engagement? Where's the community? Not that everyone will sign up to exclusive agreements à la Joe Rogan, but for clarity — including on revenues — there will have to be consolidation and improvement in the mechanics of tracking and going from audio to click through.
Some Data….
For my own podcast, I'm about to eclipse 400 episodes on my English-speaking podcast. At the bottom of this post, you can scroll down to find the top most downloaded 10 episodes. In light of the new sources and types of data you can now get for your podcasts, I wanted take a look at how my listeners have evolved (Buzzsprout).
Podcast Listening Channel on Minter Dialogue
Since 2010 on my podcast, the mobile has been the most important category of device on which to listen to podcasts. Back in the year 2010, the computer (laptop/desktop) had pride of place, but now has fallen to second place, and is moving backward at pace. Over the last five episodes, the computer only accounts for 6% of listens (right hand chart). I believe that the category of Watch (i.e. Apple Watch) has been merged into mobile going forward, probably because of a lack of certainty in the source (ie. a tethered watch).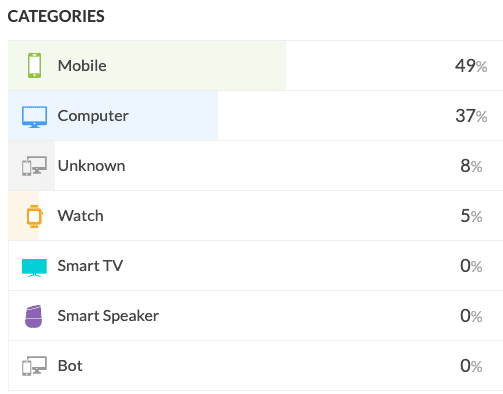 In terms of devices, it's clear that the iPhone is dominant and for my show, Apple remains singularly important. The Apple Watch numbers have disappeared in the recent data, which is more a testament to the challenge of tracking than the fact that less people are listening via the Watch than before. Android trails among the overall and recent devices.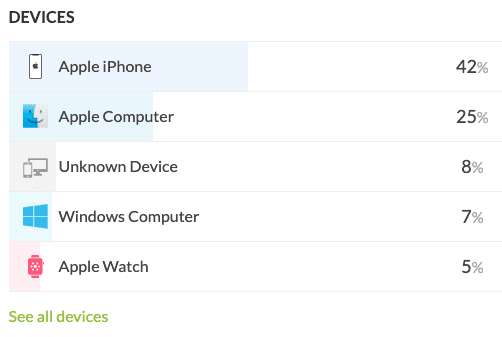 Podcast Listening Apps
This is an important category of data. Unsurprisingly, Apple Podcasts (and the legacy Apple iTunes) dominate all apps among those listening to my podcast (with a combined 65%). The Buzzsprout embed player which is my host and lodged on my blog post show notes accounts for 4% overall (and % recently). Over the last five episodes, we can see that the trend is toward podcast listening apps, with Apple Podcasts now even more dominant (70%), but Overcast, which is my preferred service, is still ahead of Spotify (5th) and PlayerFM (6th). I expect to see much more movement among the apps, as Spotify forces its way in, and Amazon and other specialty apps fight for marketshare.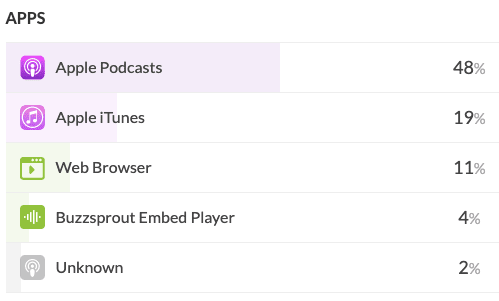 Top Ten All-Time Episodes on the Minter Dialogue Podcast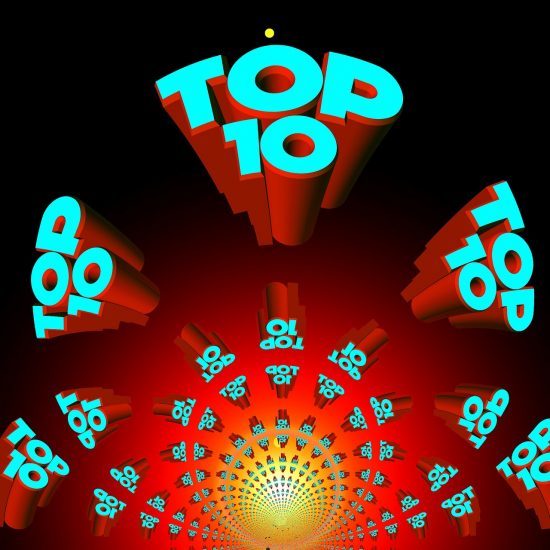 When I scan this list of the top ten most downloaded episodes of the Minter Dialogue show since its creation, the little story in my head is that people enjoy a wide diversity of subjects. These range from eCommerce to negotiating to meditation to filmmaking to WWII, along with big name entrepreneurs and authors. In terms of time decay, I note that the list features the second-ever recorded show (Nov 2010) and just one from the last twelve months. In fact, it's quite spread out over the years. If you've not had the chance, take your pick below and see if you can understand why these episodes were so popular!
If you feel like leaving a rating or review of my podcast, I'd be very much obliged. They're the real currency of any podcast. Please click here to provide your rating in this handy app.