Through this pandemic, if we have been talking a lot about digital transformation and eCommerce, one of the lesser known winners, in my mind, is the audio space. I base this on three dots that I connect. There seems to be an appetite for audio content and contact that is fitting a need. Will it last? Who knows.
1. The meteoric rise of podcasting
We have seen the extraordinary rise of the audio podcast. According to Podcast Insights, as of January 2021, "we have an accurate method for determining the number of shows – and it's currently over 1,750,000." That's huge. Back in March 2020, in my bi-annual State of Podcasting report, I noted that there were 850,000 active podcasts. By the summer, having endured the first wave of lockdowns, we were seeing over 100,000 new podcasts coming on tap every month. To wit and to celebrate, we launched the Podcast Festival Live. Podcast production has become all the rage as individuals stuck or isolated in their home offices look for new ways to reach out. Meanwhile, importantly, podcast consumption has also been rising. With the increased choice of content, on any type of topic, it's not difficult to find something to suit your passion or need via an audio podcast. This bodes well for the business of podcasting which, despite still suffering from toothing pains (e.g. discovery, monetisation), is beginning to reach a critical mass. According to eMarketer, podcasting is projected to be exceed $1 billion in ad revenues in the US in 2021.
2. Audiobooks are booming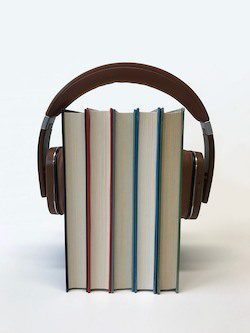 It seems that reading books is again in vogue during the various lockdowns around the world. Through the end of 2020, according to NPD BookScan (which covers 85% of the trade book market in North America), print sales were up 8.2% versus 2019. E-books (+16%) and audiobooks (+17%), while still a small segment of the market (approximately 20% and 5% respectively), were up as well. In all categories, these numbers strongly reversed a dip in sales from the early part of the year. All told this has been the best year for books since 2010 (which is good news for us authors!).
Whereas the data we have available is all about sell-in, the big question remains whether reading itself has gone up comparably? While it's impossible to measure print book readership, that's a distinct benefit with the digital formats. What the data seems to show is that audiobook listening has been booming (albeit Amazon doesn't share out its data with publishers). In my podcast interview with Trena White, cofounder of Page Two Publishing, she talked about how non-fiction audiobooks have been far outpacing print growth. Interestingly, Page Two are looking at how to produce a more engaging and medium-specific audio book recording.
3. Audio messaging
I don't know about you, but the opportunity to communicate with audio messages, much less have audio calls (e.g on WhatsApp or on your landline [what's that? you ask]), is a welcome relief to the endless stream of video calls. Moreover, audio calls avoid the aggravation of typing on a tiny keyboard without your glasses and/or with big (or cold if you're outside) fingers. When I call on audio, it's a lighter touch communication. No need to whip out the comb or makeup. There's little more irritating than calling someone on audio and having them switch the call over to video. As if I might have called audio by mistake? While WhatsApp may itself be experiencing a wave of departures in light of its new and rather unpopular policy updates (sharing data with Facebook, etc.), there are numerous other apps that will surely benefit, such as Telegram (which just surpassed 500 million active users) and Signal.
Social Audio – the Clubhouse phenomenon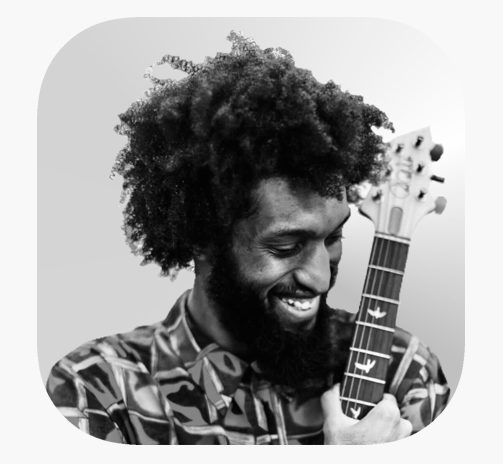 To crown off this movement towards audio, we now have the arrival of the audio social media, Clubhouse. It calls itself "drop-in audio chat." Started in the first half of 2020 and still in beta mode, Clubhouse is certainly a hot ticket. By May 2020, it was valued at around $100 million despite only having 1,500 users at the time, according to CNBC. From a marketing standpoint, Clubhouse has done a great job in promoting rarity. From a product standpoint, it's got an easy UX and a great sound quality (easier than having to deal with video). Its simplicity is a bonus. Currently only available in iOS, the app has received over 166,000 ratings in the Apple app store and is rated on average at 4.9/5.0, an impressive score. One thing that Clubhouse taps into is the need for real-life, realtime conversations. And there are plenty of clubs within the app that seek to drive meaningful conversations, too.
Why the rise in audio?
If good old fashioned AM/FM radio has taken it on the chin because of the decreased time spent in cars (where radio is a dominant medium), there's no doubt that music streaming services — which are audio par excellence — are also turning to spoken word audio programmes. I'm even hearing about new radio shows (shoulder tap: Sam Sethi's River Radio) and other resurgent radio talk shows. But, what does all this audio consumption mean? Why the huge rise in audio? I think of three things that have come together during this pandemic period to make audio attractive: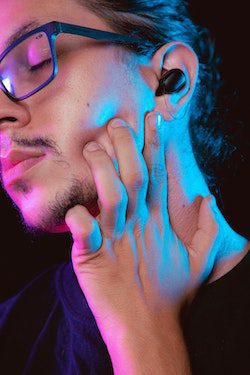 Audio in the ear is an intimate and discrete experience — something we're all seeking more of.
We're all fatigued with the Zooms and being on screen.
Audio (through earbuds or not) allows for alternative modes of consumption, notably multi-tasking: including driving, gardening, doing DIY, exercising, cooking…
Audio in the ear is an intimate and discrete experience — something we're all seeking more of.

#iloveaudio @mdial
In closing, I'm delighted to see the resurgence of the audio space. I've made it a daily habit of mine to listen to music as well as stimulating podcasts. It's a question of finding the channels and carving out the time/bandwidth among all the activities taxing our precious time. One other audio element that is also worth splicing into your day: silence.
Your thoughts?
---
Banner image credit: Photo by Blaz Erzetic on Unsplash