Updated October 2020: The new 2020 State of Podcasting is out now.
Podcasts: thumbs up or thumbs down?
If you have come to this blog, is it because you know and already like podcasts?  Or are you curious about them?  Or did you land here by mistake?
The state of the podcast
From my perspective, the podcast* is a great "new" medium that is still wildly underexploited despite the proliferation of smart phones and iPods. While there are many podcasts available in the English language — most easily downloadable on iTunes** — it seems that in other languages, the selection is rather limited, and even less if you are looking for good quality and/or an alternative to mass media diffusions (for example, broadcast new or hertzian radio shows reconfigured in a podcast format).  Many podcasts quickly fizzle out.  Some have just one single recording — worse, others are entirely empty.  It is thus in French and Spanish, two languages I can verify.  The state of the podcast would seem to be in abeyance.
How many podcasts are there today?
Chronicling of podcasting is quite hazy and intermittent, certainly if compared to other media.  If you refer to Wikipedia, there are some 150,000 podcasts (no source given) now available in total (all languages).  PEW Research calculated that there were 90,000 in 2010 (up 30% from 2009); I will make the assumption that PEW calculated only English language podcasts.  If we project that the growth in English podcasts continued, there would be over 115,000 English language podcasts today.  In terms of categories, the vast majority are listed as general or unknown, a sure sign that the podcast market is not mature (see the PEW Research ranking below).
Another weakness in the way podcasts are catalogued is that they are all kept on the iTunes shelf, no matter how old they are and whether or not the podcast show continues to be aired.
Low awareness, much lower usage
As per the latest research I could find, in 2010, there were just 23% of Americans listening to podcasts, up from 22% the year before.  Awareness in USA reached 45% (up from 43%), or approximately 70 million 12+ Americans.  I have not found data for other countries, but I am going to wager that for countries as 'developed' as France on the internet, the number of active listeners is under 5%.
Poor penetration outside of North America
Podcasts are available in iTunes in 90 different countries; but, judging by the numbers, most prefer to borrow from the English repertoire.  Per iTunes instructions in the FAQ, the easiest way to find foreign language podcasts is simply to search using words in the desired language.  Otherwise, for sure, it takes a bit of a work around to figure out the alternative way.  You need to find the Power Search feature.  The easiest way to find Power Search is to use the spotlight search and type in "podcast" (as below).

The Power Search feature includes a language pull-down filter with the most popular languages in iTunes.  The most popular list cites 34 languages, including Icelandic, Estonian, Croatian and Ukrainian.  Hum!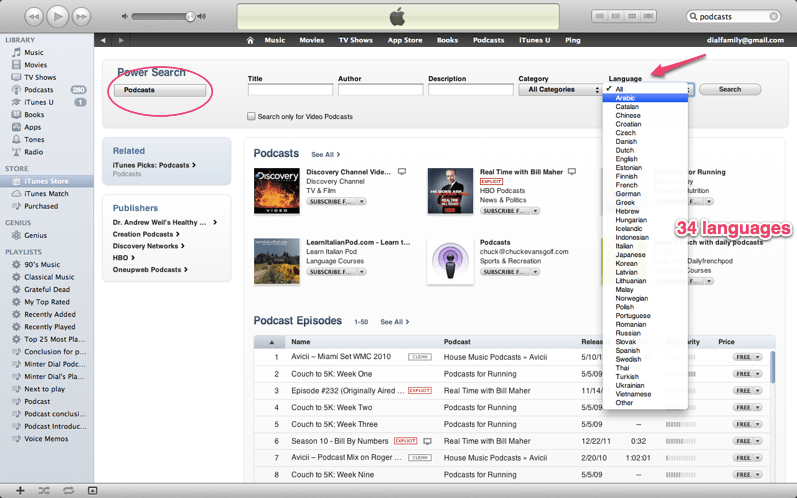 Popular podcasts in other countries
To see podcasts that are popular in other countries, click on the Home icon in iTunes to go to the main page of the Store. At the bottom of the page is an option to "change country."  That allows you to switch to different stores. Once in the desired store, navigate to the Podcasts page. In the Top Podcasts list, for example, you will find podcasts ranked according to popularity in that country.  I checked and the ranking is different according to the country.
How many podcasts per language in iTunes?
For the pleasure and because there is little information out there, I decided to count the number of podcasts available in iTunes in a select list of languages.  Rather remarkably, the other languages are all written in English in the iTunes dropdown menu.  The numbers below are as January 14, 2012:
Arabic 1,085
Chinese 2,154
French 7,952 (my French podcast Minter Dialogue weighs at the 2,883rd ranking, ugh)
Hebrew 202
Japanese 7,769
Norwegian 482
Russian 1,332
Spanish 7,856
Ukrainian 23
The above is by not a definitive list, and there are, of course, many podcasts not published on iTunes.  I am going to suspect that there are a lot more Chinese podcasts available via a Chinese distribution system.  All the same, compared to 115,000, the list goes a long way in showing that the vast majority of available podcasts on iTunes are in English!
What does the future hold for podcasts?
As with blogging and other new forms of digital media consumption, the US remains several years ahead of the rest of the world.  For podcasting, the pace of uptake of podcasting has clearly slowed in the States.  In Europe and elsewhere, the tipping point seems to be quite far away and, potentially, will never get out of the starting tracks.  And yet, the future of the podcast being consumed by daily commuters — whether in public transportation or in the car — remains as big as ever.
Competing with an ever growing list of alternative media, the audio and video podcast risks being relegated to just an alternative distribution channel for mass media.  For independent and free downloadable radio shows (aka podcasts) — such as my own "Minter Dialogue Radio Show " — considering the difficulty to pierce through to gain larger audiences, the chances are that there will be a large winnowing out process.  Quality shows will presumably rise to the surface, but endurance will be vital.  Hopefully, the methods of cataloguing and accessing podcasts will improve with technology.
What are your thoughts about podcasts and the future of podcasting?  What's your favorite podcast?
————————
*Podcast is a rather ungainly word.  It comes from mixing the terms "broadcast" and "pod", the latter coming from the success of the iConic iPod, the most well known portable media player though which to listen/view.  I tend to use the term "downloadable radio show" (thanks to my friend, Alan Stevens in the UK).  In this article, I have not made any distinction between an audio and video podcast, but clearly there are differences in the way that audio/videocasts are produced and consumed.
** Note that podcasts are still the 6th tab on the top menu of iTunes.  You can find other podcasts on one of 173 podcast directories currently listed on Podcast411, such as Podcast Alley.  This list of podcast directories in Podcasting News [link broken] includes (an incomplete) list of international podcast directories.