Why you've got to strengthen your ethics and empathy
As we ease into the post lockdown period, businesses around the world will kick into gear in a rush to recuperate lost business. Where many companies will be in a fight for survival, they may turn to desperate measures. I will certainly be keeping an eye out for the ethical behaviours of brands. Would that there were a way where we could magically make everyone aware of unethical practices, beyond just voting with our wallet or making an outraged post on social media. As I've mentioned in the past, I feel that brands will need to lean in on their ethics. I even suggested creating a position of Chief Ethics Officer.
I recently went to make an order on a wine seller site. It's called Wine Express. I was appalled to see the sign-up required me to tick a box that covered two things in one. An age-gate plus opt-in.

In other words, I had to click the box to say that I am over 21 years old AND that I was happy to receive their emails and offers. In principle, I immediately wanted to go elsewhere, but I signed up just to see if my suspicion would hold true… And sure enough within a few hours, I had received FOUR emails! Really?

The first one thanked me for signing up (as if I had a choice) and told me to expect to receive "your first email today." They could have been more upfront and said "your inbox will be spammed all day."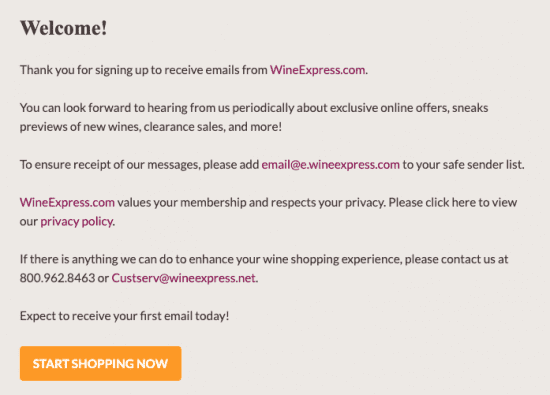 How has something like this happened? Simple. The marketing team bought into an automated marketing solution and evidently turned off their empathy. The danger of using such martech to manage your customer relationship management (CRM) is that, while it sounds slick and might be great for saving costs at head office, it is very easy to get it wrong. Especially if you don't think like a customer, and imagine being in their shoes.
Marketing teams looking to ramp up their activities, scrambling for every possible available customer dollar will be tempted to use such automated systems. It's time to lean in our empathy if you do. AI is only as smart as the human intelligence you code it with.
You might pick up a few prisoners, but you'll lose in the long-term as a majority of customers will vote with their wallets and fingers.
Time to dial up your empathy and ethics!
***If you like my writing and are interested in fostering more meaningful conversations in our society, please check out my Dialogos Substack. This newsletter will feature articles on why and how we can all improve our conversations, whether it's at home, with friends, in society at large or at work. Subscription is free, but if you see value in it, you are welcome to contribute both materially and through your comments. Sign up here: