The Joy of Padel podcast with Denise Höfer
Denise Höfer is the #1 German Padel Team Player alongside Vici Kurz, captain of the German National Padel Team, and runs the DeeStyle Sport Marketing & Management business. A former professional tennis player, since 2018, Denise has scorched onto the padel scene. She's currently ranked #126 in the world on FIP.
Further resources for The Joy of Padel:
The Joy of Padel podcast is brought to you in association with Padel1969, who are proud to create one of the best padel product and service offerings in the world. Padel1969 believes in passion, joy, and integrity. We respect the DNA and roots of Padel – from Acapulco since 1969. To check all their full offer in padel courts, equipment and savoir faire, please go visit the Padel1969 site.
Meanwhile, you can find Minter's other Evergreen podcasts, entitled The Minter Dialogue Show (in English and French) in this podcast tab, on Megaphone or via Apple Podcasts.
Transcript of the Denise Höfer interview on the Joy of Padel podcast
Brought to you via Otter.ai
SUMMARY KEYWORDS: padel, playing, denise, player, tennis, years, court, sponsors, tennis players, sport, germany, talk, pedal, work, pro, partner, lebron, tournaments, put, team, paddle, padel tennis, FIP, hofer, höfer
SPEAKERS: Denise Höfer, Minter Dial
Minter Dial 
Hello and a very warm welcome to the Joy of Padel podcast, spreading and sharing the supreme delight of this wonderful and fast-growing game. I'm your host Minter Dial. And this podcast is brought to you by Padel1969, the largest manufacturer of premium padel courts, one quart for life by Padel1969. The Joy of Padel is part of the Evergreen Podcast Network. For more information about the network, go and check out evergreen podcast.com So, this is the inaugural season of the Joy of Padel podcast. And to start with, we're going to do an episode once every fortnight episodes will drop every other Wednesday at 12 Noon London time. Please let us know what you think about the show by putting up a rating and review. So, for this fifth edition of the Joy of Padel podcast, my guest is Denise Hoofer. Denise is the number one German padel team player alongside Vici Kurtz. She's captain of the German national padel team and runs D style sport management and management business. A former professional tennis player since 2018, Denise's scorched onto the padel scene. She is currently ranked number 126 in the world on FIP. She's also a good friend. And I've had the pleasure of playing with Denise many a time. Vamos! Well, Denise Höfer, so great to have you on the show. I mean, like some of the other people who've been on the show, I have had the great privilege and pleasure to play with you. And it's always a joyful experience Denise in your own words. Who are you?
Denise Höfer 
Hi Minter. Thanks for having me here. This is like, hopefully going to be a lot of fun for you. For me for everybody else. My name is Denise. I'm 42 years old. I'm born and raised in Germany. I'm a former tennis pro. And right now I'm trying to do my best at padel. Let's see how far I can go.
Minter Dial 
Yeah, so let's talk us through I mean, you say you played obviously pro tennis and the women's circuit, talk us you know how that was and then your transition into padel. How did you get to padel?
Denise Höfer 
Well, talking about pro tennis player. I was always doing my school my studies the same time. So, I was ranked between like 300 350 WTA. And I was playing first division, German League. So, I did I made money with it, but I was still doing like all my education stuff. So, it was very intense. It was intense time like doing the school and the university at the same time trying to be a pro player. But I did it with a lot of passion. I don't regret a second I did that. But I stopped like many years ago already but tennis is one of my biggest passion and will always be and padel. Well Pamela was just kind of running into it. It was like a coincidence, call it serendipity Call it whatever you want. I call it luck. Because now it became like probably my biggest passion maybe even a bit bigger than tennis right now. I was very lucky that some of my friends my close friends who are also like tennis players, they introduced me into pebble. So, like four years ago, they asked me to come to the south of France, because they're having a quote there and they were like hey Denise, why don't you come for the weekend? We have a thing of a sport which is called padel you should try it. And we have a court at the family's house and I'm like I don't know what is this? I'm not so sure I will like it…
Minter Dial 
Or no you weren't, sorry about going to South of France? I'm sure!
Denise Höfer 
No, well, the south of France is definitely not the wrong place to be definitely not. And also because there are all tennis players as well. So, they promised me the knees in case you do not like it. We'll play tennis with you. I'm like alright, alright, we're gonna come and I will see if I like it or not. So, I got my ticket flew to South of France, Minter, on Friday went straight onto the padel court like they always do, those guys. Well, I actually never left the padel courts till Sunday night till I flew home so yeah, totally fell in love.
Minter Dial 
Love at first sight so because people are this is just an audio of you they won't know that you're not a six foot five giant.
Denise Höfer 
And not yet news with my heels. So, yeah.
Minter Dial 
So, your transition into padel, because oftentimes tennis players struggle to get into padel. Want you to talk us through your movement into it. I mean, obviously, did you have the same kind of struggles as with the wall…
Denise Höfer 
I would lie if I would say no. So, definitely a big yes. And everybody was telling you Denise, let it go let it go let it bounce off the wall. I'm like, no, no, no, no. And they're all like, but the wall is your friend. I'm like, no, he's my biggest enemy. They're like, no different. I'm like, no. So, yes, I definitely did have my struggles. Until now. They're always like points in the metro, like, serious. Why did the ball come out of the wall like this way and not the other way.
Minter Dial 
So, for swing to hit a lefty or something totally true,
Denise Höfer 
which is saying, but I have to say, we're not enemies anymore. We become friends. We are probably not besties yet. But we get there.
Minter Dial 
Love it. So, today, Denise, you obviously practice your you have another profession, which is in the sports management. But in terms of today, padel, you are number one ranked in Germany, who's your partner? How did you make that? How's that going?
Denise Höfer 
Well, as everybody know, pal right now is the fastest growing sport in the world. So, also Germany discovered a sport a bit later than some other countries, even though it's like a big country, but it's like really, really growing in Germany too. And my partner who's like, way younger than I am, but I know her since she's a little kid, because she was playing for the same tennis club that I was, and we don't live far away from each other. So, when I started playing padel, she was already into padel, like one two years longer than I was, even though she's younger. But she was at this time at the United States to study. So, she studied one year abroad. And then she came back to Germany. And she's like, hi, Denise. She called me up. She's like, "Hey, I heard you started playing padel?" I'm like, "Yeah, I do." She's like, "Hey, should we train?" I'm like, "sounds good to me." And since then, we made a team and in the last two, two and a half years, we haven't lost a single match in Germany.
Minter Dial 
Wow. So, as I understand that, she plays she's left-handed, so she plays in the write up on the left. And despite your size, you are you're definitely a strong player. How would you describe yourself as a as a panel player? And the way I like to ask it is, tell us what sort of animal are you?
Denise Höfer 
Well, what kind of a boat kind of player i am, let's first answer this question. Because my partner she's not much taller than I am. But she's pretty strong. And she's a lefty and lefties are always a bit creative, a bit crazy, as we also know from tennis sometimes. So, she definitely is the one who wants to finish the point. So, me I need to keep kind of keep the overview over the game. And also like, work on the defense well, but then also attack at the right point, but I have to say Be patient. So, what kind of animal I am. Well, my favorite animal by far is a black panther. Probably that's kind of how I am. I'm not the biggest but I am. I'm very fast on the court. And when it comes to the right moment, I can attack. But I weighed anticipate, and I move like, pretty sleek, I would call it…
Minter Dial 
That's fair. Very fair. So, what about now you've been playing for four years, what is your favorite shot and why?
Denise Höfer 
Well, obviously, because I'm coming out of the tennis till today is probably my two-handed, short cross court backhand, like pounded down, or as a return if I can take it before the glass, and the one who serves and wants to approach to do that. He can't get it because the angle is too short. So, I definitely loved this one.
Minter Dial 
What about a shot that you feel like you could improve on?
Denise Höfer 
This my secret? I'm not gonna tell it hopefully no, no, none of my opponents gonna listen to that. Well, it's definitely the vibora. And also my Smash, but I worked on it and the last one to two months and I'm slowly step-by-step puzzle – a puzzle getting there.
Minter Dial 
So, what is it about the vibrato that you find more challenging when you're when you dealing with it, because you're so capable. It's always interesting when a great player or someone is very capable, still has something they can work on,
Denise Höfer 
through what you're saying, like I adapt really quick. So, if a coach tells me to do something, I can do it normally immediately in like two minutes. But the vibora is just so different than any other stroke in tennis. Like, there's no real stroke you can compare but also, it's like not brand new, because it's like a mix of a forehand volley of a slice serve … and I'm just still kind of struggling then also keeping my wrist loose, you know, but as I said, bit by bit.
Minter Dial 
Beautiful. I'm with you on that one. So, you play pro, mostly in Germany, you do travel though I saw you in London, I remember at the FIP What about amongst the other pro players, women or men and men? Who do you admire? Is there any are there any players that you particularly find her a really fun to watch for you.
Denise Höfer 
Well, there are definitely a lot a lot of amazing players out there, especially the Spanish guys and girls. Because don't forget, like they're all coming from Pebble is not like me, my myself I just started like four years ago. So, they're playing panels and they're like little kids. So, their anticipation is amazing. Like how early they see where the ball will go. It's incredible to watch and one of the best examples talking about that definitely is Paquito so yeah, Paquito Navarro. Like his anticipation is just crazy. For sure he's not the fittest and for sure he's not the fastest but he sees everything and this bed so early. So, it's just amazing to see so when it comes to anticipations definitely Paquito talking about like, still keeping up with the young kids because I'm not one of the young kids anymore either. But still being so fit in such an amazing shape and like training so hard every day. Definitely Bela. Bela is amazing by being the GOAT in padel for me. 16 years number one; being such gentleman he's like the Roger Federer in padel for me, but also then I watched Galan now watch LeBron how dynamic they are, the way they jump. It's like they look like they're from a different world also Coello and Tapia. Like the four of them. It's different world a difference board watching them. It's beautiful.
Minter Dial 
It strikes me when I watched the Tapia, Coello LeBron, Galan, there's a sort of a new movement to the way that they are approaching a point where they are much more dynamic and even switching even though left and right there. They're running across the net so much more, to try to destabilize.
Denise Höfer 
Well, the game changed a lot lately. I'm only in the game since four years. But when I see for example, Bela playing Pablo Lima playing one Martin Diaz, they're all playing like old school padel, which was like avoiding making a mistake and pushing a lot of times the ball back. Like those young kids, they're going for it. They're smashing, they're like crossing, they're doing wild things. And as you said, they they're very much disabled the game, the way they play now.
Minter Dial 
So, Denise, you were saying you don't see yourself as a pro player. What do you mean by that?
Denise Höfer 
Well, we do practice kind of like pros. But let's be honest, which are real right now. 120 in the world, I'm 110 In your world, I'm number one in Germany. But still, there's no real money you can make out of it. So, you need to have a daily living. So, I still have my job. Luckily, I work independent. So, I can travel the world. I can play the tournaments and work from wherever I work into sports management. I do marketing, sponsoring, and all those things. And my partner, she still goes to university. And this is the only reason we can still travel and go to tournaments. But when people think, oh my gosh, this is like an amazing life. Yes, it is. But you need to have sponsors, you need to have some extra money. Like to cover the costs. It's like not we're like to increase the money there.
Minter Dial 
No. Right. So, I mean, in tennis, presumably, the cut off in terms of rankings from making in life as a pro is is much higher. I mean, in terms of the ranking 120 and padel, you're not going to make it as a life.
Denise Höfer 
Well, no, John's like you luckily, because you're number one German. So, we do have some nice sponsorships. And because the sport is growing so much, it gets more and more. But no, you definitely cannot compare it with tennis.
Minter Dial 
Do you feel that? So, you work in in the area of sponsorship. So, you kind of know this business inside out? Must be interesting to have knowledge of both sides of the equation. And I'm guessing you kind of know how to make that better for you.
Denise Höfer 
I would say yes. Yeah, I definitely do know that. That's also why we do not have a manager like I manage my partner and myself. So, because I know what is the best for us. And I talk with her directly in whatever comes in. We split it 5050 And like this, I have it in my own hands and I can control it myself.
Minter Dial 
Can you tell us who your sponsors are?
Denise Höfer 
Well, definitely I can. We are very proud that we are like the only German women sponsored by Cupra. Because Cupra is a big name in padel. And so we sponsored by Cupra. We sponsored by Head when it comes to the rackets. We do have sport kinde outfits, which is not popular, but very cute. Very cute, though a lot of different kinds of colors and very happy with it. And then we do have some extra sponsors like, like sponsoring us money-wise.
Minter Dial 
Nice. Yeah, so you're also very active on social. Yeah. Social. Yeah, yeah. No. In social you're very active on the court, of course. But in terms of your social media, and how do you work that do you have to? Do you have to show things with regard to your sponsors? Or is that an agreement or you just do it because you seem to have so much fun when you're on your Instagram?
Denise Höfer 
Well, I think Instagram first of all is not a place to be mean to be mad like to, to put negativity out. So, I think it's completely the wrong place, I think to put this out. So, me I try to keep my Instagram really positive, really fun, sometimes a bit provocative. You say that how you said it? Yeah. So, but for me, it's like a toy I'm playing around. But definitely, yes, we had to have the cooperation with our sponsors. And yes, we definitely did produce content for them. But this is like a partnership, like both ways. And we love doing that.
Minter Dial 
So, how does someone find you on Insta?
Denise Höfer 
Deestyle3005. So, hit me up!
Minter Dial 
I'll put that in the notes. But, you talked about the fact that it should be a place of positivity. My Instagram Reel or Thread, you know, is constantly about padel. And it's true, though. I do see sometimes negativity amongst the pros, about the pros, bad attitude of someone like LeBron or something like that. And how do you deal with that? I mean, because obviously, if you're in the limelight, you're gonna get good and bad.
Denise Höfer 
Well, I'm used to that since many years, that I have to deal sometimes with negative comments with negative people. So, a few years ago, it really hurt me a lot. But right now I'm in the point of my life, um, you know what, you read this comment, bye, bye, just gonna block you. I just ignore it. Like, it's not worth it. Because there are people like hiding behind comments instead, like, if you want to tell me something, just call me just tell it to my face, or write me private DM, don't put a stupid comment below some of my posts. And I think this is really shady. And I feel very sad as well, like, you just mentioned LeBron, and he was injured and there's so much negative things that they put out there, like in comments about him, and he's such a sensitive person. And I do not like to see that. And I think it's totally the wrong place to do it. I like when there's like, positive criticism, like constructive, constructive, exactly. Totally fine for me. You can tell me everything, you know, you can talk with me about everything. But I think like right now is a lot of jealousy and a lot of unhappy people. And I think, guys, just keep it for yourself. Don't put it out there.
Minter Dial 
Yeah, in mentioning LeBron. It I mean, from my angle, I think from many people's angles, when you see him on the court, he looks unhappy. People tend to think Oh, how disgraceful or ungracious he is, as a player, sort of getting angry at Galan, but yet you have a completely different side of him?
Denise Höfer 
I do. I totally do. So, I know about that. But I think he is one of the most supportive players of all, I've seen him with the Spanish national team. Last year, the World Cup, he was supporting each and every single player of the Spanish team, even he will even if he was on court, or he was not on court, he was clapping, he was cheering he was coming and hugging and giving them kisses on the forehead or whatever. So, he's a very, very supportive player to the others. And he suffers a lot right now because of his injury. So, I think, and I speak out because of myself today, a lot of people think bad about me too. And I don't think I'm a bad person. So, I feel for him sometimes, yes.
Minter Dial 
And this, of course, is coming from the number one player that time, you know, when you were being supportive with all the other members of the team, it can make such a difference in terms of Team shape.
Denise Höfer 
It does, we do have that in the German national team as well. You know, I'm the captain, I'm trying to support all the players when we play. And some they do have more energy, some other they do have less energy. And it takes a lot of energy. I'm telling you to support all the other players and be there for him, because it's energy draining. And you still want to keep the energy as well for yourself because you're gonna play at one point by yourself too. So, you really need to be happy with yourself. You need to focus that you keep your energy together and also to how you call that to energize yourself again, and not getting too drained.
Minter Dial 
When you're the captain Are you also responsible for the choice of the pairs?
Denise Höfer 
No, I'm not. This is definitely our coach. She does that. Like we have a female coach for the for the girls. We have a male coach for the guys, they take the decision. They talk with me about it, but it's totally not in my hands and I'm very happy it's not because this would bring me in a really bad situation after that…
Minter Dial 
There is a lot of politics. So, this is the Joy of Padel, Denise. And this is obviously an addictive game. But what about some of the Funniest moment or some sort of silly moment that happened to you on a bad record. So, anything come to mind? Oh, well,
Denise Höfer 
We had a lot of silly moments with my partner, definitely, because she's pretty clumsy. So, a lot of silly moments happening. So, for example, was one of the last tournaments we played, she stumbled, and I fell something on my right foot. But I kept on playing because the ball was dropped, it was coming. So, I was running into the court, till I realized it was actually her head, like, hitting my foot, because she slept. And then she stays back. And I'm, like, stand up, she's like, You in my head. I'm like, No, you follow my foot. So, there are a lot of crazy moments happening. As long as nobody really gets injured. I mean, all's good.
Minter Dial 
They're one of the reasons why I have been enjoying sports – and in the Joy of Padel, I want to think about is: What can you learn from padel for life? What are the life lessons that have ever come to your mind about playing padel?
Denise Höfer 
Well, first of all, it's a team sport, right? So, it's also like, you're not alone. Like I'm a tennis player. So, I'm used to be alone, my court and just focus on myself. So, it's definitely being a team. Like looking out for someone else on the court like communication. You communicate a lot on the pedal court. So, it's definitely this is one of the factors and also being patient. Because I'm sometimes a bit impatient. Just a little tiny bit, and only sometimes please, no, but definitely is being patient and, like also being in a team.
Minter Dial 
Yeah, this idea of communicating, I find it extraordinary how the Spaniards or the Spanish speaking culture is much more talkative. I think that the Anglo Saxon, from world from which you come at least in Britain, America, even the French, they don't talk as much on the on the court is something we need to learn. And off the end really, relationships, as in teamwork. It's all about communication.
Denise Höfer 
Well, I agree that my partner me, we talk a lot, but we also talk a lot about non top padel topics on the pedal chord. So, we communicate pretty well. But I think it's also because we like to talk a lot, and we get along pretty well. So, it's also about like, how you get along with each other, like people communicate in very different ways, I think.
Minter Dial 
When you look at the how the padel pros, there are so many changes and partnerships. Where do you have any view on how to choose your partner? Because I mean, people who aren't pros necessarily still have to think about choosing their partners.
Denise Höfer 
Well, first of all, it has to be matched who's right and who's left? Well, my partner, she's a lefty, she's a really strong lefty. And I like being on the left, but I'm not the strongest left player. So, for me, it's a perfect match playing with her, like being a left side player, but not the one who finished the point with having a lefty on my side.
Minter Dial 
Yeah, I mean, I'm sort of, I feel like I'm a I'm doing what you do. But on the right, which is more the traditional role of the right, right, just to sort of push the ball control, see the see the big picture? What about the future of padel for Denise? What does the future hold for you?
Denise Höfer 
Well, I'm already so happy what happened to me in the last two, three years, I was never expecting anything like that coming up in my life again. I was competing twice in the World Cup, we twice went under the top eight. So, I played the World Cup last year in Dubai and the year before in Qatar, as well. I played the European Olympic championship this year. So, they want to see if padel might become Olympic or not. We won two international titles, FIP titles in the last year. So, this is already great. So, let's see how much further we can go to three weeks ago, it was the first Premier padel tournament for women in Rome, it was the best 60 pairs in the world. And we were so lucky that we were one of them. So, it was also a big honor. So, our next goal is to see if we have a slight chance to play the next premier padel in Paris. And how long ago was, that will be great. And then there's also the European Championship coming up this year playing for Germany again, in the national team and also being the captain of the team. And yeah, I guess that's it for for now. Yeah, and then playing some more prize tournaments and PIP stars whatever. And you know, for me is not my profession. So, it's fun passion. And let's see where it will take me.
Minter Dial 
Beautiful. It must very much be an honor to be the captain of the national team. Always a pleasure to play with you Denise and love your energy. Keep at it. You panther.
Denise Höfer 
Thank you. Thank you so much Minter. Thank you for having me. And yeah, let's keep on playing. Vamos!
Minter Dial 
So, I hope you've enjoyed this Joy of Padel episode. Please don't forget to subscribe to be first in queue for the next episode. And if you like what you hear, please do share around with other padel aficionados. This is a sport that deserves to be paid by absolutely everyone. And if you've got a story that you'd like to share, please send me an email or a better yet a voicenote to: nminterdial@gmail.com.  With that, Vamos!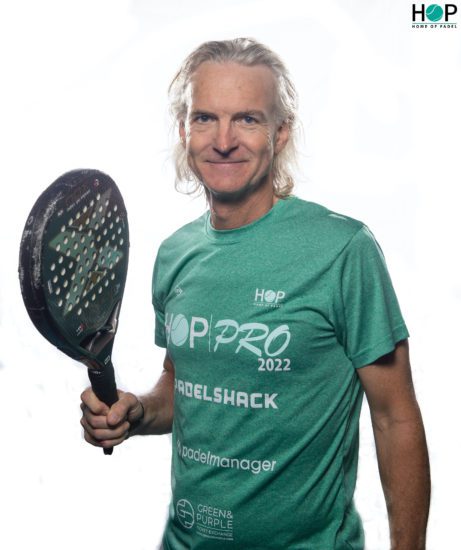 About the host: Minter Dial
Minter Dial is an international professional speaker, author & consultant on Leadership, Branding and Transformation. His involvement in sports has been a lifetime passion. Besides playing 18 years of rugby, captaining athletics teams, coaching tennis and playing squash for his university, he's been a lifelong player of padel tennis, starting at the age of 10, from the time of its very first public courts at the Marbella Club in 1974.
Then, after a successful international career at L'Oréal, Minter Dial returned to his entrepreneurial roots and has spent the last twelve years helping senior management teams and Boards to adapt to the new exigencies of the digitally enhanced marketplace. He has worked with world-class organisations to help activate their brand strategies, and figure out how best to integrate new technologies, digital tools, devices and platforms. Above all, Minter works to catalyse a change in mindset and dial up transformation. Minter received his BA in Trilingual Literature from Yale University (1987) and gained his MBA at INSEAD, Fontainebleau (1993). He's author of four award-winning books, including Heartificial Empathy 2nd edition (2023), You Lead (Kogan Page 2021), co-author of Futureproof (Pearson 2017); and author of The Last Ring Home (Myndset Press 2016), a book and documentary film, both of which have won awards and critical acclaim.
It's easy to inquire about booking Minter Dial here.
View all posts on padel tennis by Minter Dial