Every two years I like to put out my predictions of business trends — with a heavy marketing bias — for the upcoming year. Reviewing those I made for 2012 and 2014 and now looking at the predictions for 2016, there are some new and exciting factors and technologies that are now coming materially into the foreground. As some might say, though, tomorrow is already here. But the reality is a lot more nuanced. For 2016, I am going to break the trends into three sections: Technology, Marketing and Mindset.
Business trends predicted for 2012
Looking back into 2012, I was talking about the following topics as becoming significant and/or more important for businesses:
curation
social media niches would start to crop up (Instagram, )
the marketing of 5Es: engagement, emotion, experience, exchange and essence
corporate transparency (and the issue of cyber breeches)
email marketing was not dead
customer service was strategic for marketing
the end of the community manager role
I also said that Microsoft would buy Facebook for (what would have been considered at the time stratospheric) at $75 billion. Today, Facebook's valuation (at $95/share) is $278 billion (NB that's down $26B since the beginning of the year). As with most predictions, it's a bit hit or miss. But, my intention is less to be right about the specifics, but to orient the mindset in order to tackle business in a better and more effective manner.
Business trends for 2014
For 2014, in my webinar presentation to Canada Post, I published the following trends, noting that a lot of the trends were more about enhancements or qualifications of pre-existing trends:
mobile marketing gets more sophisticated
video gains in importance (Vine & GIFs)
time to leverage images, including ones that are user-generated (Olapic)
the power of data and the need to own it
marketing automation – but are brands really engaging with customers?
security / privacy is becoming strategic
wearables are coming (the google glass is half empty)
3D printing (developing more options)
coding should become an in-house skill
how to foster greater creativity in-house
fostering a learning organization (constant learning)
Looking back at the 2014 predictions, as one might expect, some have turned out to be more accurate than others; but on balance they are all coming true, just with varying speeds, timing and applicability. The real challenge for business leaders in comprehending and on-boarding these trends is that they are more or less relevant according to the industry and to the company's specific context. It's all about matching up the resources to the strategy.
Business trends for 2016 – in three parts
The way I have worked the trends for 2016, to avoid having a sprawling list, I have broken them down into three parts: Technology, Marketing and Mindset. Looked through the eyes of managers, these trends might be geared for the CIO, CMO and CEO, respectively. Herewith, the look at the Technology Trends for 2016. I have chosen to divide these into three sections: Bits (breaking out), Bytes (consolidating) and Bozos (fizzling out).
Technology trends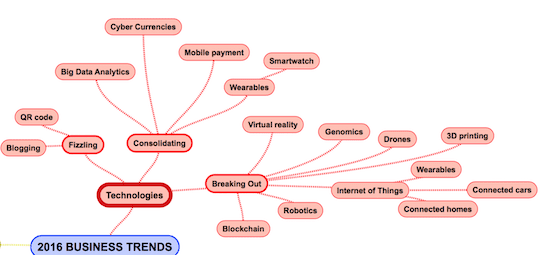 BITS – Those technologies that will be breaking out
Robotics. Humanoid robots are going to become evermore present in public spaces and at home. We will all likely come to know one or other robot: Nao, Pepper, Enon, Buddy, Leka, Jibo, Flower and, the latest out of Singapore, Nadine (right).
Virtual Reality. The VR opportunities are starting to pop up in retail and all forms of entertainment (not just gaming), as well as news reporting. Facebook's Oculus Rift is widely anticipated to launch in 1Q16.
Blockchain. The technological base underpinning cyber currencies such as Bitcoin, blockchain has many applications to other areas — such as smart contracts, real estate, file storage, voting, identity authentication — and new initiatives are popping up everywhere.
Internet of Things. Maybe we have already seen the breakout, but in any event, 2016 will see a proliferation of smart objects, wearables, connected homes (fire alarms, thermostats, lights, plug sockets) and cars.
Drones. Legislation notwithstanding, the development of safer and better drones is attracting a lot of money and talent. Usages are spawning. Expect a lot of news about drones in 2016.
Genomics is on the cusp of breaking out thanks in large part to the greater ability to sequence DNA at ever cheaper prices. Look for many new discoveries and applications this year.
BYTES – The technologies that are in a consolidating phase
Wearables. According to IDC, "the worldwide wearable device market will reach a total of 111.1 million units shipped in 2016, up a strong 44.4% from the 80 million units expected to ship in 2015." One of the biggest drivers will be the smartwatch. On the back of 2015, for which estimates range from 21 to 35 million smartwatch units sold (of which an estimated 7-13MM for Apple), 2016 should see a confirmation of the growing appetite for a connected wrist attire (driven by fitness, health and many more useful apps).
Mobile payment. Despite being around now for 5 years, the uptake of mobile payments has been slow to come because of issues of awareness and confidence. With so much at stake, companies like Apple and Samsung will be pushing hard — along with the telcos and financial institutions — for widespread acceptance in 2016.
Cyber currencies — led by Bitcoin — have had a rough ride over the last couple of years. Bitcoin is sitting at $380 at time of writing, well off the heady $1242 peak reached in 2014, but trading with evermore volume and more than holding its ground in the recent turmoil. This could be a pivotal year for the bitcoin. Unless there is a major technical flare up or huge scandal, in 2016, we should expect to see cyber currencies consolidate their position as a legitimate financial asset.
Big Data Analytics. The trendy term of big data is at least becoming more mainstream in boardrooms. Data experts are in high demand. It may yet be a question of managing the small data, but the geometric explosion of data is now a strategic business concern.
BOZOS – The technologies that are fizzling out
QR codes are present in many places, but the chances of QR codes surviving another year seem thin except in isolated pockets around the world.
Blogging – Whether it's blog fatigue, the way search is evolving or the growing presence of platforms such as LinkedIn Pulse, Facebook Notes, Medium, etc., it seems likely that blogging wanes in the face of lower traffic.
Happy to hear your thoughts and reactions. Which ones do you think I'm missing? Some of these not belong here?