I have been podcasting on Minter Dialogue since 2010 and was asked recently if I could share the "best of" list. Below are the top 10 most listened to episodes of 2019. As I looked up this list, it occurred to me how wide-ranging the topics and diverse the interviewees were. There's the amazing negotiator, Chris Voss, on top, followed by the great professor from INSEAD, Gianpiero Petriglieri. Jay Baer and his 2019 book, Talk Triggers, comes in third, followed by the ebullient Ashley Galina Dudarenok (based in Hong Kong). Mitch Duckler rounds out the top 5, with a discussion about his book, The Indispensable Brand. Marty Neumeier, one of the gods of branding, came in sixth, followed by Samuel Monnie who was CMO at the time at Campbell Soup. My long-time pal Brian Solis (now at Salesforce) spoke about his great 2019 book, Lifescale. Patrick Campbell spoke about his passion topic: subscription models and, to round out the top ten, Katie King, with her latest book on How to use AI in Marketing. I hope you'll enjoy listening/discovering some new names.
Top devices and apps for listeners
Using Buzzsprout's figures, here are the devices and apps for the last ten episodes of my show. Clearly, Apple Podcasts (and the legacy Apple iTunes) dominates. Overcast comes in as a solid second (it happens to be my favourite podcast app). Followed by Podcast Addict and rounded out by PlayerFM. These last two surprised me as well, as I imagined a surge in Spotify. Not yet, I dare say.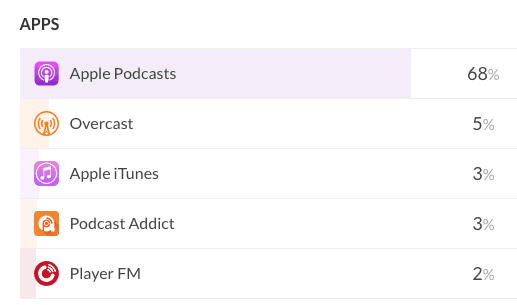 In terms of devices, it's quite surprising to see the Apple Watch powerfully installed at the number 2 position, well ahead of the Android phone. Apple has an 80% share among my listeners. Wow.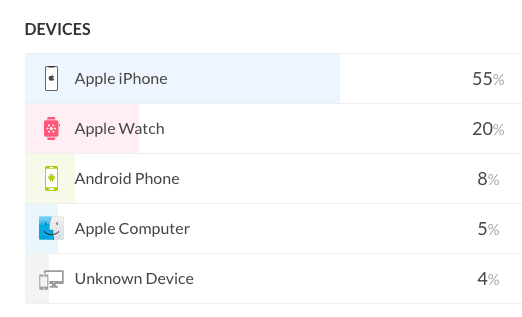 I want to thank all my loyal listeners for their support. The world of podcasting is fast evolving and I'm delighted to have been on this journey since 2010…. Thanks also to all my guests who've given up their time and energy to be a part of my Minter Dialogue podcast, where I try to foster stimulating conversations with interesting personalities.
If you feel like leaving a rating or review of my podcast, I'd be very much obliged. They're the real currency of any podcast. Please click here to provide your rating in this handy app.
***If you like my writing and are interested in fostering more meaningful conversations in our society, please check out my Dialogos Substack. This newsletter will feature articles on why and how we can all improve our conversations, whether it's at home, with friends, in society at large or at work. Subscription is free, but if you see value in it, you are welcome to contribute both materially and through your comments. Sign up here: